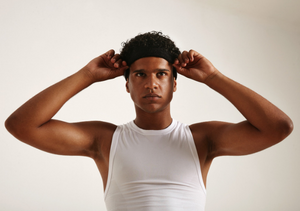 Keep Your Head In The Game: Purpose of Headband
In the game of basketball where every possession counts, the focus is an essential element of success. It allows you to make sound decisions on the court and prevents turnovers from happening. So, as an athlete, you should make a point of keeping yourself focused every time you see second on the court. This is where the purpose of the headband comes into play.
As trivial as it may seem, this piece of equipment is more than a fashion statement on the court. It can also benefit an athlete's performance in more ways than one.
More Than Just Style: Purpose of Headband
While a pair of shoes remains to be the most important piece of equipment a player can wear in a match, a headband is also right up there. If you have no idea how it can impact you, here are the reasons why you should start rocking one.
Sweat control
As far-fetched as it may sound, sweat can actually disrupt your focus in game situations. The most common occurrence concerning it is when sweat starts to drip down your face and makes contact with your eyes, causing unwanted irritation. Such a situation is more than enough to put you out of your element in the thick of a match, which could put you and the team in a tough spot.
Fortunately, there is proper equipment to help prevent this. The main purpose of the headband is to soak in the sweat pouring down the face. It reduces the need to wipe off perspiration which, in turn, allows you to lock in during the game.
Keeps hair in place
Not everyone desires to sport short, trimmed hair on and off the court. After all, everyone has their own preferences when it comes to looks. This, however, poses an issue for some since hair tends to get messy in action, which could cause distractions during the game. This is where the purpose of the headband proves beneficial.
Since it is placed near the scalp hair, the headpiece can keep the hair in place even in times of extreme action, be it running, jumping, or diving for a lose ball. Just make sure that it fits well in your head and it is strapped in a proper manner at all times.
Brings out confidence
Since the purpose of the headband is to prevent excessive sweat on your face and keep your hair in place, you will have little to no worries about the way you look when playing. This draws out the confidence in you to perform well and keeps you laser-focused to achieve victory.
Furthermore, considering that headbands come in various forms such as the traditional circular ones and the bandanas, you have the confidence to strike a fashion statement while balling out.
Be a Head-turner
When suiting up for a basketball match, it is always important to come prepared with the right equipment that will help enhance your abilities. So, make sure to remember the purpose of the headband and equip yourself with one on the court. With that, you will be turning heads with your game and your looks! 
---