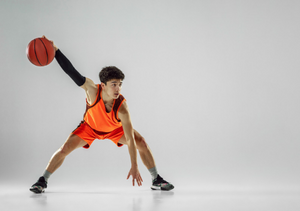 Equipment Every Basketball Player Must Have
In a sport as competitive as basketball, even the smallest of advantages can make all the difference. This often comes in the form of skills, mindset and luck, but one particular edge that gets overlooked most of the time is equipment. Truth be told, the right tools can enhance the capabilities of a player to perform well on the court.
If you have no idea about the essential equipment every player must have, then all the more important to equip yourself with knowledge about it. Here are several useful basketball items that you should get a hand on.
Suit Up: Equipment You Need In Basketball
You can wear whatever athletic gear you want on the court, but that does not mean that you will be able to buckle down to business without the right equipment. Remember, there's a proper suit for every occasion.
Basketball shoes
This equipment is a no brainer. In a sport where non-stop running is a norm and footwork is crucial, the right basketball shoes can bring out the best in you. It can help generate force from the leg up and amplify the precision of your moves, not to mention that it also provides protection for the feet and ankle. Simply put, it enhances performance, gives comfort, and even serves as a fashion statement at times.
When picking a pair of sneakers, make it a point to consider your capabilities and role on the court. Guards should go with low-top kicks to be able to shift from side to side in a quick manner, while forwards and big men could opt for high-top shoes for added ankle support when executing post moves. In case you want to strike a balance between the high tops and low tops, lean on mid-top shoes.
As the pandemic continues to threaten lives, a mask is nothing short of necessary. This may seem as unconventional equipment to have on the court, but it gives a player the confidence to go face-to-face with others while having little to no worries of contracting the virus. So, it is safe to say that wearing one in a match enhances your focus in these trying times.
Still, make sure that the mask you are going to use should be one built for fitness activities. The usual surgical mask could be an option but its materials can make it hard for you to catch your breath after sprinting up and down the floor. There are masks that would not be detrimental for athletes engaging in action, and you should take the time to have at least one or two of it.
Knee support
In a physical sport like basketball, there will be instances when a knee collision would occur which could lead to injuries. This is where knee support comes in handy. The one that best works in this case is knee pads since it reduces the impact of collision.
There are cases where other types of knee support are used for injury-prevention, one of which is knee sleeves. This equipment provides protection and compression to avoid serious knee damage. In scenarios where you inflicted a knee injury and would like to prevent it from re-occurring, knee braces will do the trick, since it offers added stability aside from protection and compression.
Invest in equipment
Preparation is the key to success in basketball, and one way of getting ready for action on the court is preparing the right set of equipment. So, suit up for purpose and gain a leg on the competition.
---